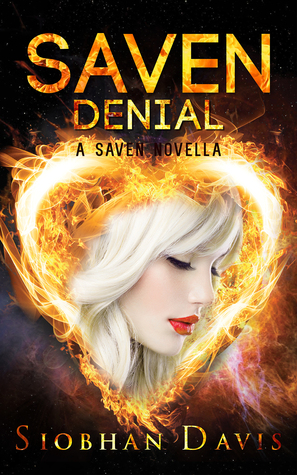 Saven Denial
(Saven #2.5)
by Siobhan Davis
Published May 21st 2016 by Siobhan Davis
My mother was right to fear me.
And the world should be very afraid.
Sadie has been kidnapped by the Tor, the vindictive alien race who destroyed Thalassic City. As her past, present, and future collides, her worst nightmare looks set to become her shocking new reality.
A deliberate pawn in leader Griselda's vengeful game, Sadie is horrified to learn the truth about her heritage and the destiny that's already been mapped out for her. Refusing to cooperate, she risks paying the ultimate price for her defiance.
Love for Logan is her only motivation to stay alive. Saving him is the only thing that matters—the fate of the world depends upon it. While he may never forgive her, she's determined to protect him. Until her dying breath.
This continues the story from where it ended in Saven Disclosure. This is not an optional novella but an essential read if you don't want to miss out on important plot developments. Please note there is a cliffhanger and it is not a standalone story. You will need to continue the series to find out what is next in store for Sadie and Logan.
So so good! I don't think I have ever enjoyed a novella for a series as much as I enjoyed this one.
This novella was very fast paced. At times I had forgotten that this was a novella and not a full length novel. Of course, I remembered when it was over way too quickly, and left me wanting more.
Denial begins where Disclosure (book two) left off. Which was perfect because Disclosure ended on a cliffhanger. And we all have a love/hate relationship with cliffhangers; they keep you in suspense, but sometimes, as in this case, the suspense is just too much! Thankfully, I got my hands on this novella so some of my unanswered questions could be resolved.
As the synopsis above states, this is a novella, but it is one you should definitely read if you are continuing on with teh series. A lot of times, novellas serve as just an optional read if you want a little more insight. This novella, however, is so much more than that.
The synopsis also warns readers that there is yet another cliffhanger, and it is a pretty fantastic cliffhanger at that.
So, if you haven't yet read any of the Saven series, you really should. It has everything you could want in a series, including aliens (a personal favorite of mine :D).
5 out of 5