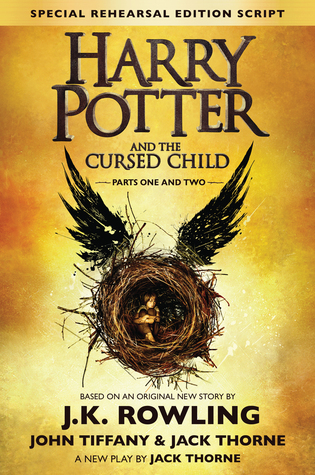 Harry Potter and the Cursed Child
(Harry Potter #8)
by

J.K. Rowling

,

John Tiffany

, Jack Thorne
Hardcover

,

Special Rehearsal Edition

,

327 pages
Published July 31st 2016 by Arthur A. Levine Books
The Eighth Story. Nineteen Years Later.
Based on an original new story by J.K. Rowling, Jack Thorne and John Tiffany, a new play by Jack Thorne, Harry Potter and the Cursed Child is the eighth story in the Harry Potter series and the first official Harry Potter story to be presented on stage. The play will receive its world premiere in London's West End on July 30, 2016.
It was always difficult being Harry Potter and it isn't much easier now that he is an overworked employee of the Ministry of Magic, a husband and father of three school-age children.
While Harry grapples with a past that refuses to stay where it belongs, his youngest son Albus must struggle with the weight of a family legacy he never wanted. As past and present fuse ominously, both father and son learn the uncomfortable truth: sometimes, darkness comes from unexpected places.
"In every shining moment of happiness is that drop of poison: the knowledge that pain will come again. Be honest to those you love, show your pain. To suffer is as human as to breathe."




―

J.K. Rowling

,

Harry Potter and the Cursed Child
This is going to be a rather short review. I feel as though I cannot give a full, proper review without giving away too many spoilers. So this review will basically just be my feelings and thoughts on the book as a whole.
First off, I have to start off by saying that I do not look at this as the "8th" Harry Potter book and think it should stop being advertised as such. For one, its not a novel but a script book. Also, J. K. Rowling did not write this entirely on her own (which is clearly stated on the front cover and is also obvious while reading it). Lastly, I may be wrong but I could have sworn J. K. Rowling herself said that this is NOT the 8th book. But again, could be wrong on that.
I surprisingly enjoyed this a lot. It wasn't at all what I expected and it was nice to go back into this magical world I love so much. I will say, I'm sure this is much better when performed. I also felt as if parts read kind of like fan fiction. I almost felt like I could kind of tell which parts Rowling had probably written and which ones the other authors had a larger hand in.
Overall, very enjoyable, with quite a few surprises.
4 out of 5