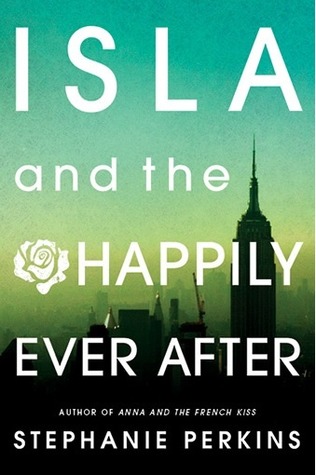 Published August 14th 2014
Synopsis

:
Love ignites in the City That Never Sleeps, but can it last?
Hopeless romantic Isla has had a crush on introspective cartoonist Josh since their first year at the School of America in Paris. And after a chance encounter in Manhattan over the summer, romance might be closer than Isla imagined. But as they begin their senior year back in France, Isla and Josh are forced to confront the challenges every young couple must face, including family drama, uncertainty about their college futures, and the very real possibility of being apart.
Featuring cameos from fan-favorites Anna, Étienne, Lola, and Cricket, this sweet and sexy story of true love—set against the stunning backdrops of New York City, Paris, and Barcelona—is a swoonworthy conclusion to Stephanie Perkins's beloved series.
"There's no story,' I say. 'I saw you one day, and I just knew."
Stephanie Perkins has a way of capturing the everyday miracles and magic in life on the page. Her writing gives off an amazing energy. Powerful and lovely. In this novel, she nails how it feels to have a crush perfectly. Not just any crush either, but one that builds and simmers and just explodes. It left me breathless. This story felt so magical, but also so real. Strong characters are those that display insecurities, patience, pain and love; things evident in human nature, things that we the readers also feel. Reading
Isla and the Happily Ever After
, or in fact, any of Perkins books, I feel as though I know the
characters
and can connect to them. They go through experiences that are relatable for the average human, not just a teen with a crush.
Isla and Josh are complete opposites. Where she is soft spoken, shy and rather predictable he is careless and outspoken. She lives in a black and white world but he brings color into it, inspiring her to take risks.
Isla has been in love with Josh basically since she first met him. She doesn't really talk to him all the often, or really, at all. They have one "meaningful" encounter a year, which is actually more or less awkward and
embarrassing
. But she has it bad for this boy. Cyber-stalking bad. While that may sound a tad creepy, what teenage girl in modern times can honestly say they've never looked up their crush via any social media site at least once? The fact that Josh's father is a senator who is running for re-election in the states makes it all the easier for her to find stuff about him online.
A few times I got angry with Isla, because she allowed her insecurities to get the best of her and she had quite the freak out that made me want to strangle her. But then, while I was mad, I could understand her reaction and could honestly kind of relate to how she felt.
As the book progresses, Isla and Josh's story made my heart melt, do flips, and drop. Doesn't sound healthy right? But it's a story that sends your emotions on a roller coaster. It's sweet, heart-warming, heart-breaking, etc. And to be perfectly honest, I normally try to avoid gushy books like this some would deem as "girly"; not because I do not love a good love story, but the stories always seem so perfect and fake, like the authors dream up scenarios that really could not happen in real life. However, Perkins, as I said before, is an exception as her stories are also perfect, but in a different way.
I was hooked on this book. I devoured it in one sitting. Three hours was all I needed to learn Isla and Josh's story. Three seconds to fall in love with it. It was also nice to see characters from the previous novels and how their lives are going. Books get so over-hyped, but I feel as though this is a book that actually deserves the hype. It is not always easy to find a series, or book, that one can connect with. Too many books have characters that honestly, readers do not give a crap about: they are annoying, irritating, WHINY, all traits that could be overlooked if the character grows and changes. Oftentimes though, the character does not change, therefore, neither do the feelings of dislike or indifference towards them. Isla went from a insecure, cyberstalking, no-risk-taker, to someone you can admire and love. Character development.
This book made me all bubbly and warm, which is embarrassing to admit, but true. It goes by fast; one minute you are 10 pages in, the next, you are ten pages from the end. And when it ends, you want more. I highly recommend this book, in case that was not obvious. ♥