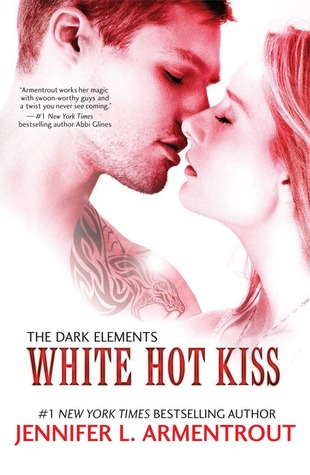 White Hot Kiss (The Dark Elements #1) by Jennifer L. Armentrout
Kindle Edition, 400 pages
Published February 25th 2014
One kiss could be the last.
Seventeen-year-old Layla just wants to be normal. But with a kiss that kills anything with a soul, she's anything but normal. Half demon, half gargoyle, Layla has abilities no one else possesses.
Raised among the Wardens—a race of gargoyles tasked with hunting demons and keeping humanity safe—Layla tries to fit in, but that means hiding her own dark side from those she loves the most. Especially Zayne, the swoon-worthy, incredibly gorgeous and completely off-limits Warden she's crushed on since forever.
Then she meets Roth—a tattooed, sinfully hot demon who claims to know all her secrets. Layla knows she should stay away, but she's not sure she wants to—especially when that whole no-kissing thing isn't an issue, considering Roth has no soul.
But when Layla discovers she's the reason for the violent demon uprising, trusting Roth could not only ruin her chances with Zayne… it could brand her a traitor to her family. Worse yet, it could become a one-way ticket to the end of the world.
"There's sweetness in evil," he said. "And remember, looks can be deceiving."
Jennifer L. Armentrout is very popular in the bookworld. Most of my friends on GoodReads, and a lot of the BookTubers I watch as well, all rave about her books. I had previously read one of her books a couple years ago and I enjoyed it but for some reason never read anything else by her. So I decided it was high time I read another book by Armentrout and therefore, I gave into the hype.
While White Hot Kiss has similar elements to every other paranormal romance out there, Armentrout still found a way to make the story unique. Layla, our protagonist, is half demon and half Warden, which is a creature similar to gargoyles. It was this Warden aspect that I found unique because I have never read anything about gargoyles/gargoyle-like creatures. It was definitely something different and caught my attention immediately.
Layla does not have much to do with her demon half. She has been raised by a group of Wardens from a young age. However, even though the Wardens took her in, they are still wary of Layla. Demons and Wardens are natural enemies so a lot of the Wardens find it hard to look past her demon blood, despite the fact that Layla herself hates that part of her. Zayne, the son of the head Warden who raised Layla, is the only one who seems to truly care for her and see her for who she is, not what is in her blood. Naturally, Layla would have a crush on him. However, there are more complications than just the fact that Zayne is kind of her brother, in the sense that they grew up together.
Being part demon means that Layla inherited some demon abilities; Layla cannot kiss anyone because by doing so, she would suck out their soul and they would die. So, Wardens have souls therefore Layla cannot really do much about this crush. But that's okay because hey, introduce Roth and what is sure to be the inevitable love triangle found in most YA novels.
Roth is a demon, an upper level one at that. And of course, he dark, sexy, and mysterious. Also, he's a demon and does not have a soul so if Layla really wants to kiss someone, he's pretty much her only option. When it comes to love triangles, I am not a big fan. But I feel like there is only one way to go in this case, but I've only read book one so who knows what crazy stuff happens later on.
I am going to have to admit here that I seem to be part of the minority; everyone swoons over the characters' sexiness and the cover and I am sitting here like, I don't care if they're hot, and then I feel weird like there's something wrong with me xD The point of saying this is that I am bad and sometimes judge books by their covers. A large majority of the time, if I see a book with a steamy cover like this one, I do not pick it up. This is because in the past, I gave books with similar covers a chance because the plot sounded amazing. However, I was usually disappointed as the whole book revolved around a romance, and a bad one at that, and failed to live up to everything else it promised. I was too intrigued by this book to just cast it aside though and gave it a chance which I am glad I did because this book, unlike others, lived up to everything it promised.
Anyway, even though I did not go absolutely gaga over the book and did not drool over the gorgeous characters, I did very much enjoy it. It was different and had me hooked. I definitely do not regret giving into the hype and plan on reading book two very soon.
4 out of 5
View all my reviews